Welcome to Bids for Bargains 2018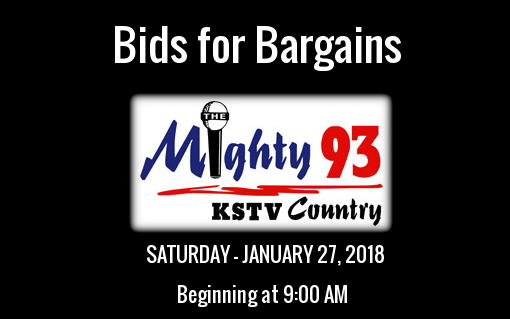 This item IS NOT AVAILABLE for check out. 
To BID Please call 968-2141 or review the bid process below. 
Click here to return to BID ITEMS  
 Saturday January 27, 2018, listen to The Mighty 93.1 and 93.9 FM and 1510 AM  and call in to bid on various items. Every 15 minutes beginning at 9:00 AM, different items will be auctioned, and you will be able to call 968-2141 to make your bid ($5 or more increments please).
The highest bid for a particular item during that 15 minutes will get that item. The bidding will end when the host breaks at the end of the 15 minutes.  This is a real bids are taken seriously.  If you are the highest bidder of any item you are responsible for payment of that item, you must come by KSTV the day of the auction to pay for the item and claim your certificate.
KSTV is located behind Texstar Ford at 3209 West Washington in Stephenville.   Good Luck !